Automatic Sugar Polarimeter KRUSS PS8000 Series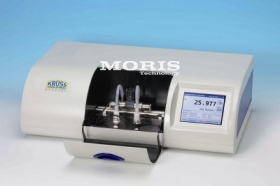 Measuring method: Int. sugar scale;
Measuring range: ±259 °Z;
Measuring units: Angle (°Z)


Matavimų laikas ±90?: 1s.
Description
This low-cost alternative to the P8000 was developed especially for the sugar industry. The PS8000 is a precise and very fast polarimeter, with the same operating and measurement functions as the P8000. The high light intensity permits measurement and continuous sample readings up to an optical density of 3.0 (dark samples). The measuring values are displayed in the international sugar scale. Display for different initial weights is possible: In addition to the standard unit of 26 g/100 ml, initial weights of 13 g/100 ml and 6.5 g/100 ml can also be selected.
Measuring method: Int. sugar scale
Measuring range: ±259 °Z
Measuring units: Angle (°Z)
Resolution: 0.01 °Z
Accuracy: ±0.01 °Z
Reproducibility: 0.02 °Z
Measuring time: ±90° 1 s
Light source: 1 LED with filter
Wavelength: 589 nm others optional
Wavelength selection: 1 fixed wavelength
Connection for temperature sensor: Special tube with PT100 temperature sensor required
Temperature measurement: 0 –99.9 °C
Temperature resolution: 0.1 °C
Temperature accuracy: ±0.2 °C
Temperature reading point Tube
Max. length of tube: 220 mm
Sensitivity min: 0.1 % (OD3)
Calibration: Automatic (menu-driven)
Display: LCD TFT 5.7 " 640x480 pixel color display (VGA)
Measured data storage: 999 Measurements
Interfaces: RS-232 (printer) USB (data export, firmware updates) Ethernet (LIMS, remote monitoring)
Operating voltage: 90 –250 V 50/60 Hz
Dimensions in cm: 64.5 x 20.0 x 36.0
Weight :28 kg