Counting scale Kern CFS 50K-3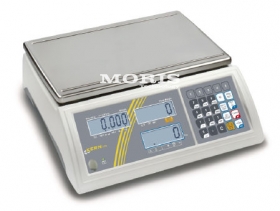 Weighing range: 50 kg;
Readout: 10,5 g;
Min. piece weight [PW min] g/piece: 1 g
Description
Weighing range: 50 kg
Readout: 10,5 g
Min. piece weight [PW min] g/piece: 1 g
Dimensions of weighing plate: 370 x 240 mm
Memory for 100 items
External adjusting
Piece counting
Weighing with tolerance range
Totalising level A: The weights of similar items can be added together and the total can be printed out.
Recipe level A: Separate memory for the weight of the tare container and the recipe ingredients (net total)
Interface for second balance: For direct connection of a second balance.
Data interface RS-232
Mains adapter: 230V/50Hz in standard version for Germany. On request GB, AUS or USA version.
Warranty: 2 years