Sieve shaker Impact SV005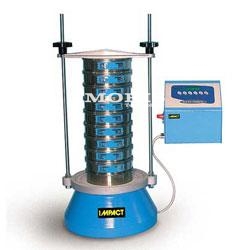 Sieve sizes accepted: 200mm, 250mm, 300mm, 315mm diameter 8 inch & 12 inch diameter;
Digital control panel functions: 1 - 999 minute test timer; Vibration intensity; Pause timer
Description
Sieve sizes accepted: 200mm, 250mm, 300mm, 315mm diameter 8 inch & 12 inch diameter
Digital control panel functions: 1 - 999 minute test timer; Vibration intensity; Pause timer
Rating: 450/750W
Power Supply: 220-240V 50/60Hz 1ph
Dimensions: 380 x 440 x 1080 mm
Weight: 65 kg

The shaker can hold up to 10 sieves. It is fitted with a digital 1 to 999 minute timer, accessed through the digital control panel. This separate panel also gives the user control of the vibration intensity and pauses between sieving actions, which is particularly useful when sieving fine materials. 

Wet sieving lids & receivers in the appropriate sizes may be used with this shaker.

This Sieve Shaker uses electromagnetic impulses to impart a triple vibrating action
The shaker is of a simple and sturdy construction making it ideal for continuous and intense use. It is operated and controlled via a separate control panel enabling high precision, performance and repeatability.