Melt indexer MI2.1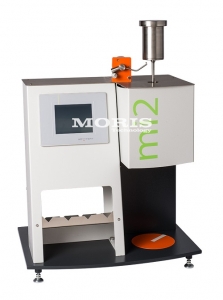 Standards:ISO 1133 / ASTM D 1238 / ASTM D 3364
Description
Introduction
Flexible, compatible, Systematic:

Step by step from the Simplest starter model mi2.1 up to the top half-equipped automated mi2.3.

The Evolution of the melt index measurement!

The Mi2 melt indexer series can carry out measurements according to one of ISO 1133 and ASTM D1238, procedures B, as well as ISO 1133 and ASTM D1238 procedure C for the "Half Height / Half Diameter Standard and ASTM D1238 procedure D (optional, only available for device type mi2.2) test for the FRR (Flow Rate Ratio) and ASTM D 3364th Also the manual procedure A is possible to Perform.

The technical highlights
 Brilliant 14:48 cm (5.7 ") color VGA touch-screen display for the operation, program control and display of the measurement results

 Ergonomic compact housing

 High-precision timer with a resolution better than 0.001 s

Temperature control algorithm, resolution 0 to 320 ° C 0.01 ° C, 320 to 500 ° C: 0.1 ° C

High-resolution position transducer to measure volume output

Additional features for all Mi2 Device Type:
Single weight mode for tests with one weight

Free selectable test range from 0 to 50 mm before the die

Storage of up to 500 parameter sets with 3000 measurements for Each parameter set

Capillary / die quick-release and locking mechanism

Base weight 0.325 kg

Electrically heated test chamber for high precision and stability of the test barrel temperature

5 Calibration settings for set temperatures with dedicated parameter files

Manual and timer-programmable on / off override switch for the heaters

Built-in USB connection (Data Stick) for the back-up date

Serial connection to communicate with the optional scale

Ethernet connection (LAN)

Integrated Web Server Wide range of optional accessories

The basic device consists of mi2.1 següents components:
Housing: Ergonomic compact housing for safe test and maintenance Procedures.

The 4 feet are adjustable in height, Which facilitates leveling of the equipment

Test

chamber:

The insulated test chamber is heated with two heating circuits.

The test barrel is Easily accessible from the top and below for cleaning

Test

barrel:

9:55 mm Diameter

Capillary: Capillary, 2,095 mm diameter, 8 mm in length, constructed from tungsten carbide and serial number engraved

Die quick release and locking

mechanism:

The Capillary is held and released by the quick-locking mechanism, Which works simply and fast.

Thusis the test channel Can be cleaned User Friendly

Test piston with test weight 0.325

kg:

This test weight is affixed atop the ISO or ASTM Specified piston.

The assembly has a total weight of 0.325 kg.

The test piston shaft has reference rings as reference marks for the ISO and ASTM standard measuring zones

Digital position

transducer:

High-resolution digital encoder to measure volume output

Color-VGA touch

screen:

For the input of parameters, the program for control and for the display of results

Compact I / O

Module:

For control and to receive input signals

Temperature

Controller:

The test chamber temperature is controlled by a special temperature control algorithm.

The temperature set points are were entered via the touch screen display.

During the test, the temperatures are displayed on the screen with a 00:01 ° C resolution

USB

Connections:

to communicate with a PC, or connect it to a stick for date date back-up in the ASCII-format

Ethernet

connection:

LAN connection and communication with MFRView software or with a networkable printer.

Also for use as an FTP or Web Server

Serial

Connection:

Connection to a scale
Technical SPECIFICATIONS:
Standards: ISO 1133 / ASTM D 1238 / ASTM D 3364

Barrel -

Diameter:

9555 - 0.01mm (0.376 inches) / Length 168 mm (6.6142 inches)

Capillary - Diameter /

Length:

2095 ± 0.003 mm (0.0825 inches) / 8 ± 0.025 mm (0.315 inches)

Diameter / Length

(Option)?:

1.05 ± 0.005 mm (0.0413 inches) / 4 ± 0.025 mm (0.1575 inches)

Material: Tungsten carbide

Test Piston -

Diameter:

9:48 to 0:01 mm (0.3732 inches) / Length: 220 ± 0.2 mm (8.6614 inches)

Weights - Test

weights:

0.325 kg (1.000 kg and 1.050 kg and 1.200 kg, 16.2 kg, 3.8 kg, 5.0 kg, 10.0 kg, 12.5 kg, 15,000 kg and 21.6 kg as option for mi2.1 and mi2.2, fix installed at mi2.3)

Tolerance: ± 0.5%

Control

- Local 14:48 cm (5.7 ") Colour-VGA touch screen IPC / PC (Option) MFRView Program, connection via LAN

Heater

- Temperature range 5 ° C above room temperature up to 400 ° C (752 ° F), optional up to 500 ° C (932 ° F)

Temperature Acquisition via a 16-bit converter

Sensors PT100 1 / 3DIN

Heater

circuits:

2

Controller: special algorithm

Resolution: 0 up to 320 ° C 0.01 ° C / 320 up to 500 ° C: 0.1 ° C

Variation over time in usable

range:

Less ± 0.1 ° C

Spatial distribution in usable range

(0-70 mm before the die) / 60 up to 400 ° C: <0.2 ° C / 400 up to 500 ° C: <0.3 ° C

Measurement

- Resolution of digital position transducer 0.025 mm / pulse, with 20,000 pulses per revolution, MI Freel user selectable test range from the surface to 50 mm above the die

Resolution time

measurement:

1 millisecond, time basis 48 MHz quartz precision 50 ppm

Power

supply:

Voltage: 1 x 230 V AC (400 ° C or 500 ° C)

Tolerance: ± 10%

Frequency: 50 Hz - 60 Hz

Protective

Earthing:

Earth resistance less than 5 ohms

Short-time

breaks:

Less than 10 msec

Power

consumption:

approx.

870 W / 1 kW

Standby

power:

Heated at an ambient temperature of 25 ° C / 190 ° C <130 W / 230 ° C <140 W / 300 ° C <220 W

Ambient conditions

- ambient temperature: + 10 ° C up to + 40 ° C

Air

humidity:

max.

90% not-condensing

Dimensions device type

mi2.1: 

Width: 510 mm (19.2913 inches)

Depth: 380 mm (15 748 inches)

Height: 625 mm (22.8346 inches)

Weight: approx.

45 kg (154 pounds)
[/ OFFER_DESC]