Hardness tester NEXUS 3001XLM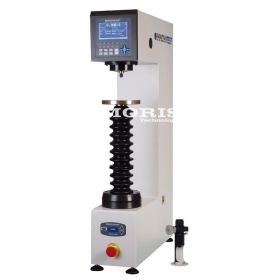 Tall version with 335mm workpiece height and 220mm throat depth.
Motorized spindle featuring automatic workpiece detection, force application, unloading and repositioning.
Description
Advanced user interface with "key in" option for indent dimensions, automatic Brinell hardness calculation.Display automatically shows Brinell hardness with conversion to Rockwell, Vickers and Leeb.
Hardness scales: Brinell
Load range: 30 kgf / 294,2 N to 3000 kgf / 29 kN
Test loads: 30 kgf / 294,2 N, 31,25 kgf / 306 N, 40 kgf / 392 N, 50 kgf / 490 N, 60 kgf / 588,4 N, 62,5 kgf / 612 N, 80 kgf / 784 N, 100 kgf / 980,7 N, 120 kgf / 1176 N, 125 kgf / 1225 N, 187,5 kgf / 1838 N, 250 kgf / 2,45 kN, 500 kgf / 4,9 kN, 750 kgf / 7,35 kN, 1000 kgf / 9806 N, 1500 kgf / 14,7 kN, 3000 kgf / 29 kN
Brinell test range: HB: 30 kgf / 294,2 N, 31,25 kgf / 306 N, 62,5 kgf / 612 N, 100 kgf / 980,7 N, 125 kgf / 1225 N, 187,5 kgf / 1838 N, 250 kgf / 2,45 kN, 500 kgf / 4,9 kN, 750 kgf / 7,35 kN, 1000 kgf / 9806 N, 1500 kgf / 14,7 kN, 3000 kgf / 29 kN
Display resolution: 0,1 HB
Specimen accommodation: Vertical capacity - 390mm XL model; Horizontal capacity - 220mm (from center-line)
Load cell, closed loop system
Test loads 30kgf/294.2N - 3000kgf/29kN
LCD display showing Brinell and Vickers value, statistics and tester settings
Simultaneous conversion to Rockwell, Vickers, Brinell and Leeb rebound testing
Microscope with analogue scale for indentation measurement
Brinell microscope with LED ring light
Connectivity for data output via RS-232
XL version, 390mm workpiece height, 220mm throat depth
Brinell microscope with LED ringlight