Pellet Durability Tester Lignotester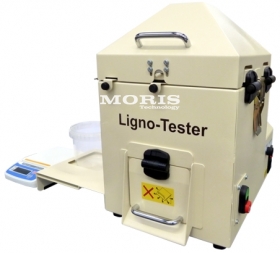 Operation: Manual;
Pellets Tested: Wood;
Sample Amount Required: Fines Test: 250-350 g
Description
Operation: Manual
Pellets Tested: Wood
Sample Amount Required: Fines Test: 250-350 g
Durability Test: 100 g
Function: Portable
Used for:Spot checks
Hole Diameter of Mesh Hopper: 3.15 mm
The Ligno Tester is used for determining the Mechanical Durability (DU) or Fine Material Amount (F) of wood pellets by simulating pellets transportation environment from mill to boiler.
It can easily be transported between locations to provide spot checks, requiring only to be placed on a flat stable surface.
Fitted with a 3.15mm diameter perforated hopper, the Ligno Tester is a recognised form of testing in the EN 14961-2 European Standard.
Users can select whether to test Mechanical Durability or Fine Material Amount by turning a switch at the side of the machine. The DU test cycle lasts 60 seconds and the Fines cycle last 30 seconds.