The device for the automatic analysis of beer FermentoFLASH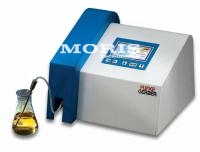 Alcohol measuring range: 0.00% - 15.00%;
Repeatability: ± 0.02%
Description
Measurement principle: The beer sample (10 ml) is sucked into the measuring cells by means of a pump. Alcoholic content, extract and density are measured by using thermal measuring effects. Derived constituents as original wort, apparent extract and osmotic pressure also will be determined.
Calibration: The device may be calibrated by using a corresponding reference beer. You can store 18 different sets of calibration data (for example Pils, Strong beer, Non alcoholic beer). Than you can change from one product to another without having to undertake a new calibration.
Interfaces: Parallel interface / recording printer: The device has a parallel interface for connecting up a normal commercial printer. A recording printer is included in the scope of delivery.
Serial interface: A PC can be connected to the serial interface. The software that is necessery for this is included in the delivery.
Technical data:
Alcohol measuring range: 0.00% - 15.00%
Repeatability: ± 0.02%
Extract measuring range: 0.00% - 10.00%
Repeatability: ± 0.04%
App. extract measuring range: 0.00% - 10.00%
Repeatability:: ± 0.04%
Original wort measuring range: 0.00% - 20.00%
Repeatability:: ± 0.04%
Density measuring range: 0.95 - 1.05 g/cm3
Repeatability:: ± 0.0002 g/cm3
Osm pressure: calculated value
Dimensions: 300 x 240 x 330 mm
Weight: ~ 5 kg
Power supply: 230 V / 115 V (50/60 Hz) 120 VA