CO2 analogue measuring instrument 1-Cube ICA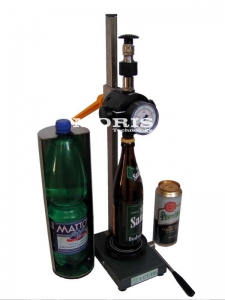 Measuring device makes it possible to determine the content of:
air in the glass bottle head space, can head space and PET head space; CO2 content in solution (beer, saturated beverages, sparkling wine) in bottles, PET bottles and cans
Description
Measuring device makes it possible to determine the content of:
air in the glass bottle head space, can head space and PET head space
CO2 content in solution (beer, saturated beverages, sparkling wine) in bottles, PET bottles and cans
Technical parameters: 
Range of CO2 measurement: 2 to 7.8 g/l or in volume percentage 1 to 4%.
Range of temperature measurement: -3 to +50 °C or in °F on demand.
Range of pressure measurement: 0 to 400 kPa or in bar or psi on customer's demand.
Accuracy of CO2 content measurement: 0.15 g/l or 0.075 % vol.
Accuracy of temperature measurement: 0.5 °C.
Accuracy of pressure measurement: 0.6 kPa.
Measuring range of gas burette: 0 - 12 ml of air.