Manual Transmission Refractometer Reichert Abbe Mark III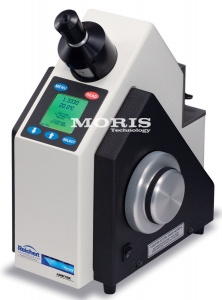 Dissolved solids, 0° to 95° Brix; Refractive Index, 1.3000 to 1.7000nD; accuracy: ±0.0001nD, ±0.1% solids (0.0 to 95.0%
Description
A modern version of the classic Abbe refractometer, with operating features of the Reichert Abbe Mark II Plus and advanced features found on the Reichert Arias 500.
Simple operation
Five-button operation, with MENU, SELECT, READ and arrow keys
Multilingual instructions in English, German, Spanish, French
To operate, just place the shadowline intersect in the center of the crosshair and press the READ button
Graphic LCD, 1.87W x 1.87 in.H (4.7 x 4.7cm), gives direct measurement readout
Accuracy is enhanced by Automatic Temperature Equilibration Detection software and Automatic Temperature Compensation
Set Point or Set Point/Span (user definable) calibration
Modes/Temperature
Dissolved solids, 0° to 95° Brix; Refractive Index, 1.3000 to 1.7000n

D

; accuracy: ±0.0001n

D

, ±0.1% solids (0.0 to 95.0%) Programmable with up to 14 custom scales, password protected setup, Restore to Factory option
Temperature compensation range: 10° to 40°C (59° to 104°F); accuracy: ±0.1°C
Temperature control range, 10° to 80°C (59 to 176°F) via ports for external circulator
Dual RS-232-C serial ports allow direct connection to computer
Optical Features
Focusable eyepiece and dispersion correction prism for true 589nm Refractive Index measurement
Adjustable, built-in illumination provided by long-life LEDs
Glass prism is sealed with epoxy to 416 Grade stainless-steel housing
Ideal for medical, pharmaceutical, industrial fluid, chemical, petrochemical, plastic, food and beverage industries. Suitable for use with either transparent or translucent liquids and solids.