New Brunswick Scientific Innova U725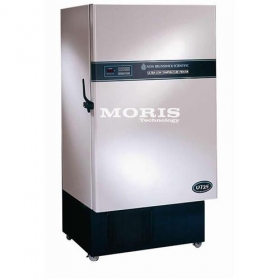 Temperature: -50°C to -86°C at ambient temperature of +32°C;
Capacity: 725 L
Description
New Brunswick Scientific's Innova® ultra-low temperature lab freezers combine Vacuum Insulation Panel design with our cooling technology to provide the ultimate in space and power efficiency.
Freezer models are include the personal-sized Innova U101, designed for use on or under the lab bench; and Innova U725, capable of holding up to 10,400 more samples than lab freezers of equal size.
Increased Storage Capacity
Innova ULT laboratory freezers utilize Vacuum Insulation Panel technology to offer up to 30% more storage capacity than traditionally-insulated lab freezers, without altering external dimensions.
Temperature: -50°C to -86°C at ambient temperature of +32°C
Capacity: 725 L
External Dimensions: 195 x 102.5 x 86.7 cm
Internal Dimensions: 136.5 x 86.5 x 61.5 cm
No. Insulated Inner Doors: 3
No. of Shelves: 3
Convenience
Flush, Front-Mounted Control Panel is easy to read and reach. Features a bright LED display; a flat touch-keypad for easy cleaning. Mounted at eye-level on all upright units
Easy-to-Open Door allows one-handed operation. Cam latch ensures secure door closure
Heated Air Vent with Spring-Assisted Plunger to Break Ice prevents vacuum formation, allowing door to be re-opened quickly
Low Noise & Low Heat Output allows freezer to be placed directly in the lab, without adversely affecting personnel
New Innova Inner Door System with Molded Grip and Ice-Proof Latch provides improved accessibility
Easy Mobility - all NBS freezers fit through a standard doorway and elevator; and are provided with heavy-duty casters. (Compact U101 provided with rear rollers)
Front-Mounted, Washable Filter is easily accessed without tools
Inner Doors Easily Lift Off without Tools for defrosting & cleaning.
Sample Security
User-Defined Password Protects Alarm and Temperature Setpoints, preventing unauthorized users from altering your settings. (Uses a 4-digit code)
Keyed Locks on Outer Doors and Lids prevent unauthorized access to valuable samples. Optional padlock adapater kit available for added security
Lockable Plate Protects Power On-Off Switch, preventing accidentally shut off
Audible and Visual Alarms indicate high and low temperature conditions, power failure, low battery, fault conditions as well as when filter needs to be cleaned
Automatic Restart with non-volatile memory returns setpoints to user-programmed levels after power interrupt
Battery Backup maintains temperature settings and activates alarms during power outage
Optional CO2 & LN2 Backup Systems protect freezer contents
Remote Contacts provide connection to an external user-supplied security system
Other Design Advantages
Unique Automatic Reset feature protects the microprocessor controller from harm caused by electrical spikes
Internal Voltage Stabilizer evens out voltage fluctuations, maintaining stable power (60 Hz models only, excluding U101 & U360. External option on U101. Slide-in stabilizer optional on U360)
Two Pass-Through Ports allow CO2/LN2 injection or addition of probes
Two-Stage Cascade Refrigeration system uses industrial-grade, commercially available, hermetically-sealed compressors
Warranty and After-Sales Support
All NBS freezers are covered by an industry-leading FIVE-YEAR limited warranty. Two years covering parts and labor — with THREE ADDITIONAL YEARS covering parts. Additionally, Innova vacuum insulation panels are warranteed for TWELVE YEARS
Freezer Accessories, such as chart recorders or back-up systems, carry a one-year warranty on parts and labor
Customizable extended warranties and preventive maintenance plans can also be tailored to best suit your individual requirements. Contact us for details
Every NBS freezer is also equipped with unique S.M.A.R.T. Plus™ diagnostic software to help quickly identify the cause of a fault or setpoint variance. Easily accessed through the front control panel, S.M.A.R.T. (Systems Monitoring and Reporting Technology), can be used to identify and correct problems, often over the phone at no charge, with the aid of our trained service technicians. S.M.A.R.T. Plus not only eliminates unnecessary service calls, but provides advance diagnosis, so should an on-site repair become necessary, the service engineer arrives at your facility with the components needed to complete the repair
Compressor and biodegradable gasses are commercially available, for ready replacement, anywhere in the world
NBS freezers conform to European WEEE Directives affecting disposal
NBS freezers are backed by one of the largest service organizations, comprised of in-house technicians, field engineers, and factory-authorized service centers in your local area