New Brunswick Scientific Innova U410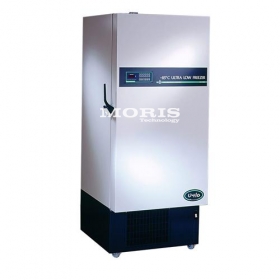 Temperature: -50°C to -86°C at ambient temperature of +32°C;
Capacity: 410 L
Description
New Brunswick Scientific's Premium Ultra-Low Temperature (ULT) Lab Freezers are the result of nearly two decades of design innovations, yielding a highly efficient refrigeration system, proven to perform reliably, year after year. Like NBS Innova® ULT lab freezers, Premium freezers provide quality design, advanced features, and the ability to safely preserve samples over the long term. The main difference is that NBS Premium Freezers utilize traditional urethane insulation, 5.1" (130 mm) thick, to achieve and maintain ultra-low temperatures of -86°C.
Temperature: -50°C to -86°C at ambient temperature of +32°C
Capacity: 410 L
External Dimensions: 191.5 x 80 x 85.2 cm
Internal Dimensions: 126.5 x 55 x 57.5 cm
Convenience
For Operator Convenience, all Premium upright and chest model freezers include an ergonimically-positioned front-mounted control panel, easy-open door, heated air vent with plunger to prevent vacuum formation, with low noise output, remote control option, and heavy-duty lockable casters.
Security
Sample Security is ensured through password-protecting temperature and alarm settings, keyed locks for outer doors as well as for the on-off power switch, audible and visual alarms for high and low temperature, power failure, low battery and filter, and automatic restart with non-volatile memory after power interrupt.
Energy Efficient and Environmentally-Friendly
All NBS freezers are exceptionally energy-efficient, saving you thousands of dollars in reduced energy consumption, as well as minimizing the carbon footprint.
Cost Savings
Cost Savings are ensured through use of energy-efficient compressors and outer door seals
Other Design Advantages
Other Advantages include five storage compartments and inner doors on upright freezer models, auto restart, and easy-access, washable filter for long compressor life