Glossmeter Novo-Gloss Dualgloss 20/60º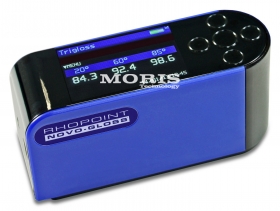 Measuring Range: 20º: 0 – 2000 GU 60°: 0 – 1000 GU;
Resolution: 0.1GU;
Repeatability: 0.2GU;
Reproducibility: 0.5GU
Description
Resolution: 0.1GU
Repeatability: 0.2GU
Reproducibility: 0.5GU
Measuring Range: 20º: 0 – 2000 GU 60°: 0 – 1000 GU
Measurement spot: 20° – 6mm x 6.39mm 60° – 6mm x 12mm
Memory: 2000+ readings
Power: Rechargeable lithium ion, 17+ hours operation
Battery life: 10,000+ readings
Recharge time: 4 hours (mains)
Continuous read: this feature allows a large surface to be quickly assessed for gloss variations.
Matt to mirror finish: all models of the NOVO-GLOSS LITETM will read matt to mirror surfaces
Automatic or manual calibration
Calibrate to any standard
Powerful statistical analysis
Mains rechargeble or dry cell battery format
Competitively priced full statistical instrument
Automatic calculation of Maximum, Minimum, Mean, Std. Deviation and Coefficient of Variance for sample batch
Extended life light source, over 10 years operation under normal conditions.